Ran Lahav
HANDBOOK OF
Philosophical-contemplative
companionships
Principles, procedures, exercises
Foreword by Silvia Peronaci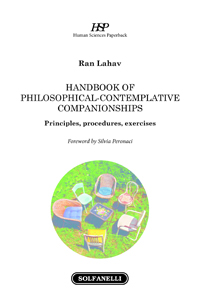 The philosophical-contemplative companionship is a group of people who meet regularly, online or face-to-face, and contemplate in togetherness on philosophical ideas and texts, seeking to develop inner depth and wisdom. The activity is very different from ordinary discussions. As the word "companionship" implies, the philosophical companions think in togetherness, "resonating" with each other as well as with the text. And as the word "contemplative" implies, companions think and interact from their inner depth.
The philosophical-contemplative companionship has been developed by Ran Lahav and his associates in the context of philosophical practice. Philosophical practice is an international movement of philosophers who believe that philosophy is relevant to our everyday life, because it can help us live a fuller life. For several decades since its birth in the early 1980s, the field of philosophical practice has included primarily two kinds of activity: philosophical counseling and discussion groups. The philosophical-contemplative companionship is a third, new kind of activity, which focuses on contemplation in togetherness.
This handbook is an introductory guide to philosophical-contemplative companionships, aimed at philosophical practitioners, philosophers, and anybody interested in wisdom and self-development. It covers both theory and practice. It explains the general principles and concepts of companionships, but also gives a detailed list of practical procedures and exercises that can be used by facilitators and groups.
The introduction to this handbook has been written by Silvia Peronaci, a philosophical practitioner who has actively participated in some of Ran Lahav's exploration of philosophical contemplation and philosophical companionships.
[ISBN-978-88-7497-988-2]

Pagg. 72 - € 8,00





Iscriviti alla nostre