HOMEPAGE

RSV n. 45
Rivista di Studi Vittoriani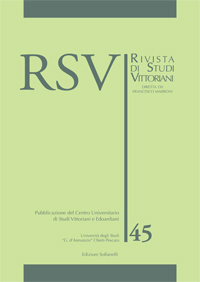 SAGGI

Allan C. Christensen
The Novels of Cornelia Turner: A Joint Venture with Giovanni Ruffini and Henrietta Jenkin

Mariaconcetta Costantini
Contending with God: Biblical Pattern and Poetic Variations in Christina Rossetti and G.M. Hopkins

Mario Martino
"The rare unity of poetry with science". Codici letterari e pittorici nel Diary of the Voyage of the Beagle di Charles Darwin

Renzo D'Agnillo
A Postmodern Prometheus? Peter Ackroyd's Revisitation of Mary Shelley's Frankenstein


CONTRIBUTI

Loredana Salis
The Alchemy of Writing: George Eliot's Representations of Gender in The Lifted Veil

Maria Serena Marchesi
Spunti per una ridefinizione delle fonti teatrali di Dracula


Recensioni di Francesca Caraceni, Mariaconcetta Costantini, Francesca Crisante, Alessandra Di Pietro.
[ISBN-978-88-3305-122-2]

Pagg. 128 - € 12,00




Iscriviti alla nostre